Course Description
The meeting of the creditors, otherwise known as a 341 hearing, is one of the most crucial and often overlooked components of a bankruptcy case. Required by the bankruptcy code, this hearing gives the trustee the opportunity to ask the client questions in order to assess the validity of the claim and the completeness of the bankruptcy documents. In this program, bankruptcy attorney Daniel Gershberg takes an in-depth look at the meeting of the creditors. In addition to covering the questions that may be asked of your client and how your client should respond, he gives a number of valuable tips on how to avoid traps that could get your client into trouble.
Length: 1hr 0min
Member Reviews
This presenter is the best. Not only is it interesting enough to compel attention, it makes me want to practice bankruptcy law!
- peggy G.
Amazing presenter. Actually made learning about a bankruptcy meeting of creditors fun! Can tell he loves what he does!
- Francine B.
By far the best course I have taken. The instructor was not only knowledgeable, but engaged in the lecture and followed up the material with very helpful stories of his personal experience. Highly recommended.
- Bobbie K.
Great content and the speaker is very interesting and easy to listen to. Definitely recommend!
- Andrea B.
He was the best Lexvid lecturer I have heard so far. Knows his stuff and presents it clearly and efficiently. Excellent program.
- Ira G.
Excellent presenter, humble, well spoken, gives great practical examples in a clear, concise manner!
- Sean S.
Read All 39 Reviews
Meet the Lecturer(s)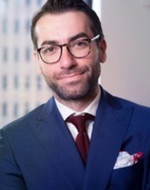 Daniel Gershburg
Born and raised in Brooklyn, NY, Daniel Gershburg always had an entrepreneurial spirit. After graduating New York Law school, Daniel immediately opened the doors to his own law office, hoping to change the way small attorneys are perceived. Besides being the Owner and President, Daniel is involved in various not for profit and Pro Bono initiatives including the Brooklyn Bar Association Volunteer Lawyers Project, and PENCIL.org. He teaches Bankruptcy and Real Estate law for various CLE providers, including LexisNexis, Lawline.com and NACLE.com.
Find Another Course