Course Description
Most of the fields of law in which we are trained begin with an agreed ethical principle and the law develops from there. So contract law begins with the principle that we should keep our promises. Tort law begins with the idea that we should not do harm to our fellowman. Fiduciary law begins with the idea that we should not betray a trust. But the law governing whistleblowing begins with a confused set of contradictory principles: notions of loyalty, obedience, autonomy, integrity, transparency and secrecy, and privacy all conflict with each other and with competing notions of the legitimate role of a government that wants to be "of the people, by the people and for the people."
This course will survey the principles underlying whistleblower law, and the various components of that law. It will begin by asking what a whistleblower is and by distinguishing whistleblowing from spying, stealing, and mere gossiping. It will then conduct a brief review of the history of the competing elements of the law: whistleblower protection statutes (both federal and state-based, affecting both private and government employees); and the competing statutes which are designed to protect secrets and to impose penalties on people who betray those secrets. It will ask whether there is such a thing as a "common law" of whistleblowing, or whether we must resign ourselves to the clumsy efforts to legislate which seem to dominate this area of the law today. And of course, it will dive into the relationship of whistleblowing to the First Amendment and to the law as it affects journalists (both full-time journalists and new age journalists).
Length: 59min
Member Reviews
If I could describe this CLE in one word, it would be "thoughtful." That is to say. more than being simply informative, it compels the viewer to think further about the underpinnings of the issues and principles involved. I'm very glad to have taken this CLE.
- Jennifer S.
Very excellent, informative course.
- Stephen M G.
The most enjoyable cle course I have taken.
- George A.
A classically educated, literate, philosophical presenter who actually welcomed and received significant audience discussion of the issues. A rarity in CLE. A treasure!
- Juden R.
This is a must see presentation.
- John Patrick T.
Esoteric and entertaining as well as provocative...
- Jennie J.
Great professor!
- Denise W.
very interesting subject matter...very interesting presenter
- Lizabeth R.
Read All 58 Reviews
Meet the Lecturer(s)
Rafael Chodos
RAFAEL CHODOS has been an attorney in private practice in Los Angeles for over 37 years. Before he became an attorney, he taught Latin, Greek and Hebrew in high school and college. After receiving his B.A. from UC-Berkeley in philosophy, he went into the computer field where he started his own software company which specialized in an early application of artificial intelligence: the design and optimization of large-scale telecommunications networks.
After becoming a lawyer, he maintained his interest in computers and published his treatise, The Law of Fiduciary Duties (2000, Blackthorne Legal Press) simultaneously in hardcover and CD-ROM formats. His treatise has been cited by several California courts of appeal, and by the California Supreme Court. In 2010, he launched an online eBook library, and in 2011, after the hardcover edition of his treatise had sold out, he published the second edition as an eBook in a dedicated chamber of that library. He is the author of several books and many articles on the history of ideas, philosophy, religion, and art, as well as law.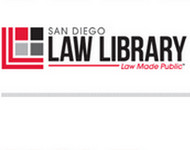 San Diego County Law Library
Since 1891 the San Diego Law Library has provided free legal information to county residents. We are open to everyone in 4 convenient locations in Vista, El Cajon, Chula Vista, and downtown San Diego. We are a no-frills operation. There are 23 of us dedicated to serving our community. But we cannot do it alone. Through programs and outreach events, we partner with the bar associations, public libraries, schools, business groups, the courts and government agencies to provide access to the laws that can bring real justice to those seeking its help. You will find that we are a small but mighty force for the public good.
Find Another Course