Course Description
The law of fiduciary duties has been around for a very long time, and incorporates contract, property, and tort law. This program presents the basic outline of fiduciary law. Rafael Chodos, author of "Fiduciary Law & Practice", will take the audience on a journey through this fundamental legal discipline, helping viewers understand the elements of fiduciary duties, where they fit in the overall architecture of the law, and how this law is changing in the 21st Century.
Length: 1hr 0min
Member Reviews
This is one of the least effective CLE's I've experienced. The written materials are inadequate - as far as I can tell, this was a preview of the speaker's book for law school consumption. Constant references to the speaker's book wasted time and made little sense since I was unable to see what the audience presumable saw - pages of his book.
- Leslie S.
This lecture made you really think about the scope of the fiduciary duty, and to critically articulate your duty to each party to a transaction or relationship. This gentleman gets 10 stars.
- Rennie R.
The course was extremely interesting, well-presented, and up to date. Rafael proved himself to be excellent and knowledgeable attorney.
- George Y.
Professor Chodos is a gifted teacher, comfortable with whatever topic he presents. A+++
- Pierce O.
I enjoy this instructor very much. He makes you think.
- Michael S.
Excellent presentation
- Edgar G.
Very helpfull
- Thomas T.
Great, creative review of the law of fiduciary duty presented in a practical way! Thanks!!
- Robert O.
Read All 44 Reviews
Meet the Lecturer(s)
Rafael Chodos
RAFAEL CHODOS has been an attorney in private practice in Los Angeles for over 37 years. Before he became an attorney, he taught Latin, Greek and Hebrew in high school and college. After receiving his B.A. from UC-Berkeley in philosophy, he went into the computer field where he started his own software company which specialized in an early application of artificial intelligence: the design and optimization of large-scale telecommunications networks.
After becoming a lawyer, he maintained his interest in computers and published his treatise, The Law of Fiduciary Duties (2000, Blackthorne Legal Press) simultaneously in hardcover and CD-ROM formats. His treatise has been cited by several California courts of appeal, and by the California Supreme Court. In 2010, he launched an online eBook library, and in 2011, after the hardcover edition of his treatise had sold out, he published the second edition as an eBook in a dedicated chamber of that library. He is the author of several books and many articles on the history of ideas, philosophy, religion, and art, as well as law.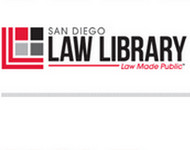 San Diego County Law Library
Since 1891 the San Diego Law Library has provided free legal information to county residents. We are open to everyone in 4 convenient locations in Vista, El Cajon, Chula Vista, and downtown San Diego. We are a no-frills operation. There are 23 of us dedicated to serving our community. But we cannot do it alone. Through programs and outreach events, we partner with the bar associations, public libraries, schools, business groups, the courts and government agencies to provide access to the laws that can bring real justice to those seeking its help. You will find that we are a small but mighty force for the public good.
Find Another Course