Course Description
With changes in medical standards of care regarding pain management, there has been a significant increase in the amount of opiate prescriptions and, consequently, a remarkable increase in opiate-related overdoses and death. Families of celebrities and lay-people, alike, are beginning to hold doctors legally accountable for the opiate-related deaths of their loved ones. What does this mean for lawyers, and how can lawyers optimize the medical records pertaining to these cases?
Goals:
1. To educate lawyers on developments in hospital pain management standards that are being implemented related to increased incidences of overdose and death from doctor-prescribed pain medication.
2. To educate lawyers on potential legal impact of above-mentioned developments.
3. To educate lawyers on how to optimize their clients' medical records in opiate-related cases.
Length: 1hr 3min
Member Reviews
Timely and well presented. One of the better CLEs I've seen on LexVid.
- Paul R.
This has been the best CE I've had w/ LexVid
- James M.
Read All 7 Reviews
Meet the Lecturer(s)
Barbara Durham
Barbara Durham, Partner of Durham-Newton Legal Nurse Consulting, is coming up on a decade of nursing experience. Her areas of personal expertise include perinatal services/neonatal intensive care, pediatrics, and pediatric intensive care. Throughout her career, she has worked in many hospitals, having worked as a traveling RN for about five years. Practicing nursing in multiple hospital settings piqued her interest in the inner workings of healthcare practice, and what that means for patient care. Barbara was inspired to become a Certified Legal Nurse Consultant© when she realized how useful her first-hand medical and nursing knowledge is to attorneys. She likes to say she is "fluent in medicine," and she knows the medical record can be a lawyer's greatest tool. As an expert in reviewing and interpreting patient medical records Barbara is passionate about making sure attorneys are empowered by their medical records, not impaired by them.
Tara Bohanon
Tara Bohannon, RN, MSN, CNS, CWON, CLNC, grew up in San Diego California, she attended University of California San Diego where she majored in Psychology. She then attended San Francisco State University where she obtained her Masters in Nursing, with a Clinical Nurse Specialist in Women's health. After graduating from graduate school, she continued her career as a nursing instructor for bachelor and master degree nursing students. While teaching she also worked as a staff nurse for labor and delivery with high risk patient population. Then continued her education from Emory University with her certification in Wound and Ostomy. In her over 15 years of nursing experience, Tara has worked in multiple areas spanning from the medical-surgical floor to women's health, and neonatal care to academic instruction. She is currently the system wide Advanced Practice Nurse for Wound and Ostomy care for a large medical center. This has allowed her to become very familiar with the inner workings of the hospital and she has authored several policies, protocols and Standards of Care.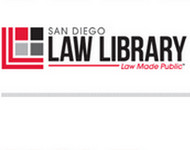 San Diego County Law Library
Since 1891 the San Diego Law Library has provided free legal information to county residents. We are open to everyone in 4 convenient locations in Vista, El Cajon, Chula Vista, and downtown San Diego. We are a no-frills operation. There are 23 of us dedicated to serving our community. But we cannot do it alone. Through programs and outreach events, we partner with the bar associations, public libraries, schools, business groups, the courts and government agencies to provide access to the laws that can bring real justice to those seeking its help. You will find that we are a small but mighty force for the public good.
Find Another Course