Course Description
Human trafficking is one of the biggest challenges in criminal law, international law, and human rights in the United States today. While sex and labor trafficking is one of the most profitable criminal enterprises, it is also one of the most difficult to detect.
San Diego has risen as the national leader in combating the problem of trafficking, an effort led in part by Chief Deputy DA Summer Stephan. In this course, Ms. Stephan gives viewers an overview of the trafficking epidemic and discusses the key laws impacting human trafficking and the key challenges that victims and legal professionals face. She will also discuss the concept of how eliminating bias is critical to the proper handling of victims/clients and steps San Diego has undertaken in recent years to address the problem.
Length: 1hr 0min
Member Reviews
No reviews yet.
Meet the Lecturer(s)
Summer Stephan
Summer Stephan is a career prosecutor who has served as a Deputy District Attorney in San Diego County for 27 years, rising through the ranks to appointments as Chief of the DA's North County Branch and Chief of the Sex Crimes and Human Trafficking Division, which are special victim units that she pioneered. In 2012, she was appointed Chief Deputy District Attorney.
As a trial prosecutor, Ms. Stephan tried more than 100 jury trials, including special circumstance homicides, sexually violent predators, child molestation, sexual assault, child abuse, school shooting, assault on peace officers, and human trafficking-related cases.
Chief Deputy DA Summer Stephan holds leadership positions in public safety on the national state and local level. She serves as Chair of the County of San Diego Human Trafficking and Commercial Sexual Exploitation of Children Advisory Council. Summer Co-Chairs the California District Attorneys Association Human Trafficking Committee and chairs the Women Prosecutors of the National District Attorneys Association, Human Trafficking Committee.
She was named Angel of Anti-Human Trafficking and "Modern Day Abolitionist". She is the recipient of a 2014 commendation by San Diego Mayor Kevin Faulconer as Commission Partner for creating positive change in the community. San Diegans Against Crime recognized her efforts with the "2016 Public Safety Leadership Award." Also bestowed were the 2016 "Spirit of the Community" Junior League award and the 2016 "Voices for Justice" award by the Interfaith Center for Worker Justice.
Ms. Stephan spearheaded the innovative "Know the Price" campaign, which focused on reducing sexual assaults of college students. She also led the award-winning "The Ugly Truth" Human Trafficking Campaign. Summer chairs the Task Force on Threats of Targeted Violence to our schools and community. Summer was selected as one of only two prosecutors in California to serve on Governor Schwarzenegger's Task Force for High-Risk Sex Offenders and Sexually-Violent Predators that created statewide policy in this area. Ms. Stephan began the first Veterans Treatment Court in North County with DDA George Loyd, a heroic Marine Corps veteran.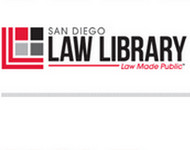 San Diego County Law Library
Since 1891 the San Diego Law Library has provided free legal information to county residents. We are open to everyone in 4 convenient locations in Vista, El Cajon, Chula Vista, and downtown San Diego. We are a no-frills operation. There are 23 of us dedicated to serving our community. But we cannot do it alone. Through programs and outreach events, we partner with the bar associations, public libraries, schools, business groups, the courts and government agencies to provide access to the laws that can bring real justice to those seeking its help. You will find that we are a small but mighty force for the public good.
Find Another Course