Course Description
Presented by Southern California real estate attorney Jay J. Brown, this class will provide a primer for lawyers and self-represented parties regarding basic homeowner association (HOA) functions, rights, and responsibilities. Focusing exclusively on the California legal landscape, the course covers the following topics:
- Sources of law
- Functions of the board of directors
- Enforcement of governing documents
- Communications with members
- Current issues
Length: 1hr 1min
Member Reviews
Very informative on HOAs, even for attorneys from other areas who might consider buying a home in a community governed by a HOA.
- Mindy R.
Excellent presentation.
- Morton S.
Read All 27 Reviews
Meet the Lecturer(s)
Jay J. Brown
Jay J. Brown, J.D., has been with the Feist, Vetter, Knauf and Loy, APC since 1991.
- California Western School of Law, J.D. 1990
- Member, California Western Law Review
- Chair, Real Property Section of Bar Association of Northern San Diego County, 1996-1998
- Member, Board of Directors, Bar Association of Northern San Diego County, 2000-2003
- Member, Board of Directors, Lawyer Referral Service of the North County Bar Association, 2005-2006
- Speaker, Homeowner Association and Landlord-Tenant Law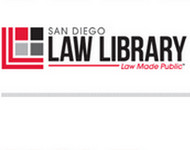 San Diego County Law Library
Since 1891 the San Diego Law Library has provided free legal information to county residents. We are open to everyone in 4 convenient locations in Vista, El Cajon, Chula Vista, and downtown San Diego. We are a no-frills operation. There are 23 of us dedicated to serving our community. But we cannot do it alone. Through programs and outreach events, we partner with the bar associations, public libraries, schools, business groups, the courts and government agencies to provide access to the laws that can bring real justice to those seeking its help. You will find that we are a small but mighty force for the public good.
Find Another Course