Course Description
In this presentation, lawyer and frequent author/speaker on mental health issues, James Eischen, discusses on the burnout and pressures that impact law professionals, providing some statistics and anecdotal stories. The presentation will also give advice on finding resources for help, and recommendations on how to address the mental distress that underlies professional burnout.
Length: 1hr 1min
Member Reviews
Excellent presentation about a serious topic that's rarely addressed. Fine speaker and good materials.
- David L.
Instructor was upbeat, provided good insight, and relatable.
- Jin K.
Read All 35 Reviews
Meet the Lecturer(s)
James Eischen
James Eischen is a California attorney with over 26 years of experience representing commercial interests locally, nationally, and internationally. His clients have included medical groups/physicians, software/IT companies, industrial enterprises, financial institutions, real estate developers/managers, and telecommunications conglomerates. His expertise extends to managing all facets pertaining to business representation: from formation to contractual relations and managing disputes/transitions. He has experience working with mergers and acquisitions, shareholder/board issues, IP transactions, venture capital investment, and general employment risk management and documentation.
Since 2009, Mr. Eischen has worked with healthcare clients in matters involving licensing and regulatory issues, including compliance with Medicaid and Medicare. He also advises in matters connected to reimbursement, contracts, interdisciplinary health professional employment and labor issues, HIPAA compliance, and the fast growing membership-based direct primary care (DPC) service approach targeting employers and individuals. Mr. Eischen became a national expert in structuring consumer/patient financial contribution and reimbursement models for private/concierge medical groups and healthcare IT product developers to achieve federal legal compliance. He has worked as a consultant/founder with medical groups, electronic health record software firms, cardiovascular testing and health coaching enterprises, and venture capital groups exploring healthcare opportunities.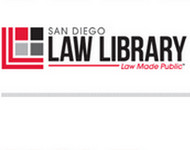 San Diego County Law Library
Since 1891 the San Diego Law Library has provided free legal information to county residents. We are open to everyone in 4 convenient locations in Vista, El Cajon, Chula Vista, and downtown San Diego. We are a no-frills operation. There are 23 of us dedicated to serving our community. But we cannot do it alone. Through programs and outreach events, we partner with the bar associations, public libraries, schools, business groups, the courts and government agencies to provide access to the laws that can bring real justice to those seeking its help. You will find that we are a small but mighty force for the public good.
Find Another Course