Course Description
Animal law is a cutting edge discipline of law with evolving pro-animal cases and statutory law, making the practice area both impactful and exciting. This program provides a general overview of Animal law as a focus for law practitioners in the United States, and updates lawyers on the recent trends in the area coming from the leader in animal rights, California. Topics discussed during this class will include: - "Dangerous Dog" cases - Rescue and adoption issues - Service and emotional support animals - Custody and ownership disputes - Recent trends in case law and legislative initiatives
Length: 1hr 3min
Member Reviews
Excellent and broad review of Animal Law. Very clear, well organized and expert presentation.
- Sandra G.
Excellent presentation; excellent presenter!
- Andrew A.
Read All 7 Reviews
Meet the Lecturer(s)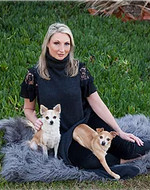 Cheryl Nolan
Cheryl Nolan knew from an early age that her life would center on caring for animals. She was the child that brought home an injured bird, or stray cat, and she had many different pets. But what sets Ms. Nolan apart from many others is her exposure through her mother's dog obedience business, Tijera Dog School, which started when Ms. Nolan was four years old. Ms. Nolan would join her mother for the Saturday morning group classes or private training and help teach the students. She also joined her mother volunteering to walk dogs at the shelter. This exposure carried through her teens. Ms. Nolan was empowered with the important life skills of responsibility and positive sportsmanship which are much needed as a dog exhibitor. She frequently showed dogs in Junior Showmanship activities and other sanctioned dog shows. When Ms. Nolan was 12 years old, she volunteered during summer break for a local veterinarian. ​ Ms. Nolan decided on a career in law to help others and be of service. After 23 years in legal services promoting the interests of the disadvantaged and equal access to justice Ms. Nolan felt the need to unify her legal work with her personal interests. ​ Ms. Nolan is proud to translate her legal advocacy skills to help protect animals and natural resources through public interest advocacy in her home town of San Diego. ​ Cheryl obtained her Bachelor's Degree from San Diego State University and her Juris Doctor from the J. Reuben Clark School of Law, Brigham Young University. She is inspired to utilize her Spanish language skills in the delivery of quality legal services.
Find Another Course