Course Description
The 14th Amendment serves as the cornerstone of landmark civil rights legislation and the foundation for numerous federal court decisions protecting fundamental rights. In this program, you'll learn from legal experts on constitutional law, immigration, and civil rights about the legacy of the 14th Amendment and how it affects today's legal landscape.
In the first part of the presentation, law professor William Aceves will discuss the text, context, and legacy of the 14th Amendment. Then civil rights attorney Carla DiMare will discuss some of her 14th Amendment cases and give viewers considerations for representing civil rights victims. Finally, immigration attorney Silvina Tondini will discuss 14th Amendment issues related to jurisdiction, naturalization, and constitutional rights for non-citizens.
Length: 59min
Member Reviews
Meet the Lecturer(s)
William Aceves
Professor William Aceves is the Dean Steven R. Smith Professor of Law at California Western School of Law, where he teaches Constitutional Law, Civil Procedure, Human Rights Law, and International Law. Professor Aceves has represented several human rights and civil liberties organizations as amicus curiae counsel in cases before the federal courts, including the U.S. Supreme Court. He has also served on the National Boards of Amnesty International USA and the International Law Students Association. He currently serves on the National Boards of the Center for Justice & Accountability, the American Branch of the International Law Association, and the American Civil Liberties Union. He also serves as the Ombudsperson for Amnesty International USA.
Carla DiMare
Carla DiMare, Esq is a social justice lawyer with a private practice whose work in state and federal courts has helped many low-income people. She has handled a variety of cases involving civil rights violations, employment disputes, Title IX, personal injury, the Military and State Secrets Privilege, defamation (in the U.S. and UK), whistle blower claims, elder abuse, cult abuse, sexual assault, trade name infringement, police misconduct (defense only), and more. Her articles have been published in The Huffington Post, the Los Angeles Daily Journal and more.
Silvna Tondini
Silvna Tondini, Esq. is a bilingual, skilled, international advocate, negotiator, and corporate counsel with years of diversified experience providing counseling and directing individuals and business clients on a broad range of legal issues. Before earning her Juris Doctorate degree in the United States, Ms. Tondini practiced law for several years in Argentina as a corporate litigator. Admitted to practice law in the State of California, the District of Columbia,and the Federal and District Courts in Argentina, she has extensive experience in all legal aspects of immigration, business and commercial law, contract negotiations, international business transactions, real estate and business acquisitions.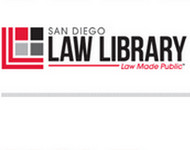 San Diego County Law Library
Since 1891 the San Diego Law Library has provided free legal information to county residents. We are open to everyone in 4 convenient locations in Vista, El Cajon, Chula Vista, and downtown San Diego. We are a no-frills operation. There are 23 of us dedicated to serving our community. But we cannot do it alone. Through programs and outreach events, we partner with the bar associations, public libraries, schools, business groups, the courts and government agencies to provide access to the laws that can bring real justice to those seeking its help. You will find that we are a small but mighty force for the public good.
Find Another Course